Swift WiFi - Free WiFi Hotspot Portable
3.0.218.0510
Swift Free Mobile Wi-Fi
Although mobile phone companies try to make sure that there is always coverage for their customers, there are always areas where they cannot reach. That can be a problem when you need to be online and can't get a signal, but the good news is that there is an app that will alert you to all of the free Wi-Fi hotspots.
Swift Wi-Fi is a free app that will let you connect to a local free Wi-Fi hotspot anywhere in the world and with a great choice of languages, yours should be in there. There can be issues with some hotspots in as much as they need passwords, but some will be provided by other users. To make sure that your device is safe, there is a Safety Test function and that will ensure no-one can access your information. The app can also be used as an optimization tool and can make sure that you log in to the strongest signal.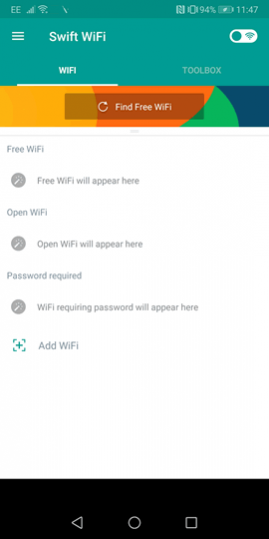 When you need to connect to Wi-Fi, you open the page and begin to scan for a free Wi-Fi hotspot. There are three sections that should have details in them. One will show the free Wi-Fi available; the next will have open Wi-Fi available, and the last will show the ones that need a password entering. Once you have found the one that you need, there will just be one click needed for you to be connected. The page will show the free Wi-Fi available then the ones that need a password. If you have the choice of Wi-Fi that needs a password and one that does not, it will be up to you to decide which one to log onto.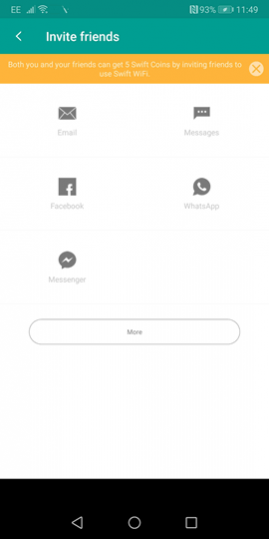 You can collect Swift coins by carrying out a variety of tasks. One of them is to invite friends and for this you will receive 5 coins. You will be able to access a number of important aspects of your online life including email, WhatsApp, Facebook and Messenger. As you will be able to see the speed status of the connection, you should not have a problem using any of the sites. If you do find that the first one you try is not up to the standard that you wanted, it is very likely that there will be others for you to try.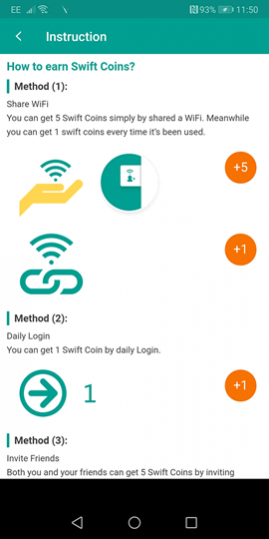 There is a page dedicated to Swift coins, clearly explaining what you have to do to get them. Further down there are details of what you can do with them. Some can be earned simply by logging in, and once you have shared the details/password of a location, then you will receive recompense of a coin whenever someone else uses it. Everything is clearly explained so you can keep a record of the coins that you have.
Features
The connection is free so you can always be in contact even if you don't have any money
As they are free, there is no need to worry about having to get passwords and if one is needed, a community member will hopefully have provided it.
The app is safe and you won't be hacked
You will be connected with just one click
You can use the app in any of 35 languages
The app can be used around the world – 223 countries are covered so far
Conclusion
As there are over 50 million users, there should be someone who has posted details of a free Wi-Fi hotspot wherever you are in the world. As hoped, it is the fastest growing app of the type and as it grows, it can only be easier to get online.
---
Add a review
Tell us your experience with
Swift WiFi - Free WiFi Hotspot Portable
3.0.218.0510
RELATED PROGRAMS
Our Recommendations
---
---
---
---